Tuscany Apartment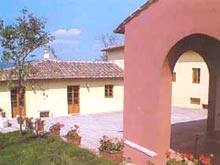 Podere Torricella is a small hamlet located on a hill among olive groves and vineyards. The property is only 18 km from the centre of Florence, and represents an ideal base from which to reach the most important artistic cities of Tuscany, such as Pisa, Siena, Lucca, San Gimignano, Volterra and Vinci.

The central tower dates back to 1200, whilst the main body - all ochre walls and higgledy-piggledy roofs - has had more than three centuries to acquire the grace of old age. Although it enjoys absolute seclusion, Podere Torricella is part of an active farm which produces Chianti wines, olive oil, grappa and honey (all of which can be purchased). Wine tastings and visits to the cellars can be arranged on the property, and next door to Torricella is a charming typical restaurant where local specialities are served.

Three years of labour went into the conversion of the rambling old farmhouse into 10 beautiful and spacious one and two-bedroom apartments. The apartments, renovated throughout according to Tuscan tradition, have a clean, fresh country look but are immaculate rather than "rustic" as the attention to detail, both aesthetic and practical , is scrupulous. Handsome ornamental "Montelupo" plates, beamed ceilings and hand-wrought bedsteads complete the simple but exquisite picture and modern luxury is added in the form of satellite television and phones (outgoing calls only).
We can add on a car rental for you.
Weekly rentals

Saturday to Saturday rentals
2023

Low

Jan 7 - April 8


April 15 - May 31
Sept 28 - Dec 22


Mid



April 8 - 15
May 31 - Jun 29
Aug 31- Sept 28
Dec 23 - Jan 6

High


June 29 - Aug 31

Two Bedrooms one bath

$439 pp

$549 pp

$729 pp

Two bedroom 2 baths

$579 pp

$579 pp
$799 pp

Prices are per person double for 7 nights. 3rd and 4th persons are free in Two bedroom unit.
Electricity, water, gas and final cleaning included
American style coffee maker
Washing machine and iron board on the premises
Telephone charges extra. (E 0.21 per unit – we recommend to use pre-paid telephone cards)
p *Heating not included Euro 10 per day
p Additional Maid/Baby sitter service available for E 10 .00 per hour
p Security deposit: E 150 please cash or traveler cheque by the client directly to the owner
p PETS NOT ALLOWED

Photo Gallery