For more information about Windstar's ships and itineraries please visit:
www.windstarcruises.com
| | | | | | | | | | | | | |
| --- | --- | --- | --- | --- | --- | --- | --- | --- | --- | --- | --- | --- |
| SHIP | Year | Region | FROM/TO | PRODUCT | DATE | Length | TFPE | S / B | S1 / BX | S2 / A | S3 / AX | BS / TX |
| 2020 ASIA | | | | | | | | | | | | |
| SPIRIT | 2020 | ASIA | CNS/BOA | Australia & Indonesia Encounter | 03/07/20 | 16 | 640 | 1,520 | 1,760 | 1,920 | 2,080 | 2,720 |
| SPIRIT | 2020 | ASIA | CNS/SIN | Tales From the Timor Sea: Australia to Indonesia | 03/07/20 | 30 | 1,160 | 2,815 | 3,265 | 3,565 | 3,865 | 5,065 |
| SPIRIT | 2020 | ASIA | BOA/SIN | Uncommon Indonesia | 03/23/20 | 14 | 520 | 1,295 | 1,505 | 1,645 | 1,785 | 2,345 |
| SPIRIT | 2020 | ASIA | SIN/BOA | Uncommon Indonesia | 05/04/20 | 12 | 480 | 1,140 | 1,320 | 1,440 | 1,560 | 2,040 |
| SPIRIT | 2020 | ASIA | SIN/CNS | Tales From the Timor Sea: Australia to Indonesia | 05/04/20 | 28 | 1,120 | 2,660 | 3,080 | 3,360 | 3,640 | 4,760 |
| SPIRIT | 2020 | ASIA | BOA/CNS | Australia & Indonesia Encounter | 05/16/20 | 16 | 640 | 1,520 | 1,760 | 1,920 | 2,080 | 2,720 |
| SHIP | Year | Region | FROM/TO | PRODUCT | DATE | Length | TFPE | S / B | S1 / BX | S2 / A | S3 / AX | BS / TX |
| CARIBBEAN | | | | | | | | | | | | |
| PRIDE | 2019 | CARIBBEAN | BGI/SJU | Antilles Island Hopping | 11/13/19 | 7 | 194 | 595 | 700 | 770 | 840 | 1,330 |
| PRIDE | 2019 | CARIBBEAN | BGI/ONX | Adventures of the Antilles, Colombia & Panama | 11/13/19 | 14 | 270 | 1,215 | 1,425 | 1,565 | 1,705 | 2,685 |
| PRIDE | 2019 | CARIBBEAN | BGI/PTC | Path of Paradise: Caribbean Isles, Spanish Main & Costa Rica | 11/13/19 | 24 | 920 | 2,065 | 2,425 | 2,665 | 2,905 | 4,585 |
| LEGEND | 2019 | CARIBBEAN | SJU/SJU | San Juan & the Virgin Islands | 11/16/19 | 7 | 279 | 595 | 700 | 770 | 840 | 1,330 |
| LEGEND | 2019 | CARIBBEAN | SJU/SJU | Lovely Leewards | 11/16/19 | 14 | 465 | 1,190 | 1,400 | 1,540 | 1,680 | 2,660 |
| PRIDE | 2019 | CARIBBEAN | SJU/ONX | The Spanish Main: Rise of the New World | 11/20/19 | 7 | 230 | 299 | 499 | 599 | 699 | 1,199 |
| PRIDE | 2019 | CARIBBEAN | SJU/PTC | In Search of Spanish Galleons & Costa Rican Cloudforests | 11/20/19 | 17 | 800 | 1,470 | 1,725 | 1,895 | 2,065 | 3,255 |
| LEGEND | 2019 | CARIBBEAN | SJU/SJU | Windward Islands Surf & Sunsets | 11/23/19 | 7 | 199 | 595 | 700 | 770 | 840 | 1,330 |
| LEGEND | 2019 | CARIBBEAN | SJU/SJU | Lovely Leewards | 11/23/19 | 14 | 465 | 1,190 | 1,400 | 1,540 | 1,680 | 2,660 |
| STAR | 2019 | CARIBBEAN | PHI/ONX | Dutch Treats & Steel Drum Beats | 11/26/19 | 11 | 308 | 880 | 1,045 | 1,155 | 1,265 | 1,705 |
| STAR | 2019 | CARIBBEAN | PHI/PTC | Rum, Reefs & Rainforests: Central America & the Caribbean | 11/26/19 | 18 | 609 | 1,475 | 1,745 | 1,925 | 2,105 | 2,825 |
| LEGEND | 2019 | CARIBBEAN | SJU/SJU | San Juan & the Virgin Islands | 11/30/19 | 7 | 279 | 595 | 700 | 770 | 840 | 1,330 |
| LEGEND | 2019 | CARIBBEAN | SJU/SJU | Lovely Leewards | 11/30/19 | 14 | 465 | 1,190 | 1,400 | 1,540 | 1,680 | 2,660 |
| LEGEND | 2019 | CARIBBEAN | SJU/SJU | Windward Islands Surf & Sunsets | 12/07/19 | 7 | 199 | 595 | 700 | 770 | 840 | 1,330 |
| LEGEND | 2019 | CARIBBEAN | SJU/SJU | Lovely Leewards | 12/07/19 | 14 | 465 | 1,190 | 1,400 | 1,540 | 1,680 | 2,660 |
| LEGEND | 2019 | CARIBBEAN | SJU/SJU | San Juan & the Virgin Islands | 12/14/19 | 7 | 279 | 595 | 700 | 770 | 840 | 1,330 |
| LEGEND | 2019 | CARIBBEAN | SJU/SJU | Lovely Leewards | 12/14/19 | 14 | 465 | 1,190 | 1,400 | 1,540 | 1,680 | 2,660 |
| SURF | 2019 | CARIBBEAN | PHI/PHI | Classic Caribbean | 12/14/19 | 7 | 118 | 595 | 700 | 770 | 840 | 1,120 |
| SURF | 2019 | CARIBBEAN | PHI/PHI | Caribbean Explorations | 12/14/19 | 14 | 283 | 1,190 | 1,400 | 1,540 | 1,680 | 2,240 |
| LEGEND | 2020 | CARIBBEAN | SJU/SJU | Windward Islands Surf & Sunsets | 12/21/19 | 7 | 199 | 595 | 700 | 770 | 840 | 1,330 |
| LEGEND | 2020 | CARIBBEAN | SJU/SJU | Lovely Leewards | 12/21/19 | 14 | 465 | 1,470 | 1,680 | 1,820 | 1,960 | 2,940 |
| SURF | 2020 | CARIBBEAN | PHI/PHI | Yachtsman's Caribbean | 12/21/19 | 7 | 165 | 595 | 700 | 770 | 840 | 1,120 |
| SURF | 2020 | CARIBBEAN | PHI/PHI | Caribbean Explorations | 12/21/19 | 14 | 283 | 1,190 | 1,400 | 1,540 | 1,680 | 2,240 |
| LEGEND | 2020 | CARIBBEAN | SJU/SJU | Windward Islands Surf & Sunsets | 01/04/20 | 7 | 199 | 595 | 700 | 770 | 840 | 1,330 |
| SURF | 2020 | CARIBBEAN | PHI/PHI | Yachtsman's Caribbean | 01/04/20 | 7 | 165 | 595 | 700 | 770 | 840 | 1,120 |
| SURF | 2020 | CARIBBEAN | PHI/PHI | Grand Caribbean Adventure | 01/04/20 | 56 | 1,029 | 4,780 | 5,620 | 6,180 | 6,740 | 8,980 |
| LEGEND | 2020 | CARIBBEAN | SJU/SJU | San Juan & the Virgin Islands | 01/11/20 | 7 | 279 | 595 | 700 | 770 | 840 | 1,330 |
| LEGEND | 2020 | CARIBBEAN | SJU/SJU | Lovely Leewards | 01/11/20 | 14 | 465 | 1,190 | 1,400 | 1,540 | 1,680 | 2,660 |
| SURF | 2020 | CARIBBEAN | PHI/BGI | Lush & Lovely Islands of the Lesser Antilles | 01/11/20 | 7 | 150 | 595 | 700 | 770 | 840 | 1,120 |
| LEGEND | 2020 | CARIBBEAN | SJU/SJU | Windward Islands Surf & Sunsets | 01/18/20 | 7 | 199 | 595 | 700 | 770 | 840 | 1,330 |
| LEGEND | 2020 | CARIBBEAN | SJU/SJU | Lovely Leewards | 01/18/20 | 14 | 465 | 1,190 | 1,400 | 1,540 | 1,680 | 2,660 |
| SURF | 2020 | CARIBBEAN | BGI/BGI | Jewels of the Windward Islands | 01/18/20 | 7 | 114 | 735 | 840 | 910 | 980 | 1,260 |
| SURF | 2020 | CARIBBEAN | BGI/ORG | Captivating Caribbean | 01/18/20 | 14 | 264 | 1,470 | 1,680 | 1,820 | 1,960 | 2,520 |
| LEGEND | 2020 | CARIBBEAN | SJU/SJU | San Juan & the Virgin Islands | 01/25/20 | 7 | 279 | 595 | 700 | 770 | 840 | 1,330 |
| PRIDE | 2020 | CARIBBEAN | ONX/SJU | JBF: The Spanish Main: Rise of the New World | 01/25/20 | 7 | 230 | 620 | 725 | 795 | 865 | 1,355 |
| PRIDE | 2020 | CARIBBEAN | SJU/SJU | Windward Islands Surf & Sunsets | 02/01/20 | 7 | 199 | 735 | 840 | 910 | 980 | 1,470 |
| SURF | 2020 | CARIBBEAN | ONX/CZM | Mayan Legacies | 02/10/20 | 8 | 150 | 700 | 820 | 900 | 980 | 1,300 |
| SURF | 2020 | CARIBBEAN | ONX/PHI | Caribbean Cultures: Latin America & the Greater Antilles | 02/10/20 | 19 | 300 | 1,620 | 1,905 | 2,095 | 2,285 | 3,045 |
| SURF | 2020 | CARIBBEAN | CZM/PHI | Stars of the Greater Antilles | 02/18/20 | 11 | 150 | 920 | 1,085 | 1,195 | 1,305 | 1,745 |
| SURF | 2020 | CARIBBEAN | CZM/PHI | Deep Dive into the Blue: Underwater Worlds of the Caribbean | 02/18/20 | 18 | 268 | 1,515 | 1,785 | 1,965 | 2,145 | 2,865 |
| PRIDE | 2020 | CARIBBEAN | SJU/SJU | San Juan & the Virgin Islands | 02/29/20 | 7 | 279 | 735 | 840 | 910 | 980 | 1,470 |
| PRIDE | 2020 | CARIBBEAN | SJU/SJU | Lovely Leewards | 02/29/20 | 14 | 478 | 1,470 | 1,680 | 1,820 | 1,960 | 2,940 |
| PRIDE | 2020 | CARIBBEAN | SJU/SJU | Windward Islands Surf & Sunsets | 03/07/20 | 7 | 199 | 735 | 840 | 910 | 980 | 1,470 |
| PRIDE | 2020 | CARIBBEAN | SJU/SJU | Lovely Leewards | 03/07/20 | 14 | 478 | 1,470 | 1,680 | 1,820 | 1,960 | 2,940 |
| SURF | 2020 | CARIBBEAN | PHI/PHI | Classic Caribbean | 03/14/20 | 7 | 118 | 735 | 840 | 910 | 980 | 1,260 |
| SURF | 2020 | CARIBBEAN | PHI/PHI | Caribbean Explorations | 03/14/20 | 14 | 283 | 1,470 | 1,680 | 1,820 | 1,960 | 2,520 |
| PRIDE | 2020 | CARIBBEAN | SJU/SJU | Windward Islands Surf & Sunsets | 03/21/20 | 7 | 199 | 735 | 840 | 910 | 980 | 1,470 |
| SURF | 2020 | CARIBBEAN | PHI/PHI | Yachtsman's Caribbean | 03/21/20 | 7 | 165 | 735 | 840 | 910 | 980 | 1,260 |
| SURF | 2020 | CARIBBEAN | PHI/PHI | Caribbean Explorations | 03/21/20 | 14 | 283 | 1,470 | 1,680 | 1,820 | 1,960 | 2,520 |
| SHIP | Year | Region | FROM/TO | PRODUCT | DATE | Length | TFPE | S / B | S1 / BX | S2 / A | S3 / AX | BS / TX |
| 2020 COASTAL | | | | | | | | | | | | |
| BREEZE | 2020 | COASTAL | PTC/PVR | Southern Mexico: Fish Tales & Mayan Trails | 04/20/20 | 8 | 170 | 680 | 800 | 880 | 960 | 1,520 |
| BREEZE | 2020 | COASTAL | PTC/SAN | Mexico & Seas of Cortez Illuminated | 04/20/20 | 15 | 320 | 1,300 | 1,525 | 1,675 | 1,825 | 2,875 |
| BREEZE | 2020 | COASTAL | PTC/VAN | West Coast's Salsas, Sloths & Syrah | 04/20/20 | 25 | 920 | 2,250 | 2,625 | 2,875 | 3,125 | 4,875 |
| BREEZE | 2020 | COASTAL | PVR/SAN | Fishing for the Sea of Cortez | 04/28/20 | 7 | 150 | 620 | 725 | 795 | 865 | 1,355 |
| BREEZE | 2020 | COASTAL | PVR/VAN | North America's Coastal Treasures & Culinary Pleasures | 04/28/20 | 17 | 750 | 1,570 | 1,825 | 1,995 | 2,165 | 3,355 |
| SHIP | Year | Region | FROM/TO | PRODUCT | DATE | Length | TFPE | S / B | S1 / BX | S2 / A | S3 / AX | BS / TX |
| 2019 LATIN | | | | | | | | | | | | |
| PRIDE | 2019 | LATIN | ONX/PTC | Adventures in Panama & Costa Rica | 11/27/19 | 10 | 650 | 850 | 1,000 | 1,100 | 1,200 | 1,900 |
| PRIDE | 2019 | LATIN | PTC/ONX | Costa Rica & Panama Canal | 12/07/19 | 7 | - | 595 | 700 | 770 | 840 | 1,330 |
| STAR | 2019 | LATIN | ONX/PTC | Costa Rica & Panama Canal | 12/07/19 | 7 | - | 595 | 700 | 770 | 840 | 1,120 |
| PRIDE | 2019 | LATIN | ONX/PTC | Costa Rica & Panama Canal | 12/14/19 | 7 | - | 299 | 399 | 599 | 699 | 1,099 |
| STAR | 2019 | LATIN | PTC/ONX | Costa Rica & Panama Canal | 12/14/19 | 7 | - | 595 | 700 | 770 | 840 | 1,120 |
| PRIDE | 2020 | LATIN | PTC/ONX | Costa Rica & Panama Canal | 12/21/19 | 7 | 480 | 595 | 700 | 770 | 840 | 1,330 |
| STAR | 2020 | LATIN | ONX/PTC | Costa Rica & Panama Canal | 12/21/19 | 7 | - | 595 | 700 | 770 | 840 | 1,120 |
| STAR | 2020 | LATIN | PTC/ONX | Costa Rica & Panama Canal | 12/28/19 | 7 | 459 | 595 | 700 | 770 | 840 | 1,120 |
| PRIDE | 2020 | LATIN | PTC/ONX | Costa Rica & Panama Canal | 01/04/20 | 7 | - | 595 | 700 | 770 | 840 | 1,330 |
| STAR | 2020 | LATIN | ONX/PTC | Costa Rica & Panama Canal | 01/04/20 | 7 | - | 595 | 700 | 770 | 840 | 1,120 |
| PRIDE | 2020 | LATIN | ONX/PTC | Costa Rica & Panama Canal | 01/11/20 | 7 | 480 | 595 | 700 | 770 | 840 | 1,330 |
| STAR | 2020 | LATIN | PTC/ONX | Costa Rica & Panama Canal | 01/11/20 | 7 | 459 | 595 | 700 | 770 | 840 | 1,120 |
| STAR | 2020 | LATIN | PTC/ONX | Costa Rica & Panama Canal | 01/25/20 | 7 | 459 | 735 | 840 | 910 | 980 | 1,260 |
| STAR | 2020 | LATIN | ONX/PTC | Costa Rica & Panama Canal | 02/01/20 | 7 | 459 | 735 | 840 | 910 | 980 | 1,260 |
| SURF | 2020 | LATIN | ORJ/ONX | In the Wake of the Spanish Armadas | 02/01/20 | 9 | 400 | 780 | 915 | 1,005 | 1,095 | 1,455 |
| BREEZE | 2020 | LATIN | ONX/PTC | Costa Rica & Panama Canal | 03/30/20 | 7 | 400 | 735 | 840 | 910 | 980 | 1,470 |
| BREEZE | 2020 | LATIN | PTC/ONX | Costa Rica & Panama Canal | 04/06/20 | 7 | 400 | 735 | 840 | 910 | 980 | 1,470 |
| BREEZE | 2020 | LATIN | ONX/PTC | Costa Rica & Panama Canal | 04/13/20 | 7 | 400 | 735 | 840 | 910 | 980 | 1,470 |
| SHIP | Year | Region | FROM/TO | PRODUCT | DATE | Length | TFPE | S / B | S1 / BX | S2 / A | S3 / AX | BS / TX |
| Costa Rica Cruise Tours | | | | | | | | | | | | |
| STAR | 2019 | LATIN | ONX/PTC | Monteverde Cloud Forest & Arenal Volcano Cruise Tour | 12/7/19 | 7 | - | 2,395 | 2,500 | 2,570 | 2,640 | 2,920 |
| STAR | 2020 | LATIN | ONX/PTC | Monteverde Cloud Forest & Arenal Volcano Cruise Tour | 1/4/20 | 7 | - | 2,395 | 2,500 | 2,570 | 2,640 | 2,920 |
| PRIDE | 2020 | LATIN | ONX/PTC | Monteverde Cloud Forest & Arenal Volcano Cruise Tour | 1/11/20 | 7 | 480 | 2,595 | 2,700 | 2,770 | 2,840 | 3,330 |
| STAR | 2020 | LATIN | PTC/ONX | Monteverde Cloud Forest & Arenal Volcano Cruise Tour | 1/25/20 | 7 | 459 | 2,635 | 2,740 | 2,810 | 2,880 | 3,160 |
| STAR | 2020 | LATIN | ONX/PTC | Monteverde Cloud Forest & Arenal Volcano Cruise Tour | 2/1/20 | 7 | 459 | 2,835 | 2,940 | 3,010 | 3,080 | 3,360 |
| BREEZE | 2020 | LATIN | ONX/PTC | Monteverde Cloud Forest & Arenal Volcano Cruise Tour | 3/30/20 | 7 | 400 | 2,835 | 2,940 | 3,010 | 3,080 | 3,570 |
| BREEZE | 2020 | LATIN | PTC/ONX | Monteverde Cloud Forest & Arenal Volcano Cruise Tour | 4/2/20 | 7 | 400 | 2,535 | 2,640 | 2,710 | 2,780 | 3,270 |
| BREEZE | 2020 | LATIN | ONX/PTC | Monteverde Cloud Forest & Arenal Volcano Cruise Tour | 4/13/20 | 7 | 400 | 2,535 | 2,640 | 2,710 | 2,780 | 3,270 |
| 2019 TAHITI | | | | | | | | | | | | |
| SPIRIT | 2019 | TAHITI | PPT/PPT | Tahiti & the Tuamotu Islands | 12/02/19 | 10 | 124 | 930 | 1,080 | 1,180 | 1,280 | 1,680 |
| SPIRIT | 2019 | TAHITI | PPT/PPT | Dreams of Tahiti | 12/12/19 | 7 | 107 | 730 | 835 | 905 | 975 | 1,255 |
| SPIRIT | 2020 | TAHITI | PPT/PPT | Dreams of Tahiti | 12/19/19 | 7 | 107 | 870 | 975 | 1,045 | 1,115 | 1,395 |
| SPIRIT | 2020 | TAHITI | PPT/PPT | Dreams of Tahiti | 12/26/19 | 7 | 107 | 730 | 835 | 905 | 975 | 1,255 |
| SPIRIT | 2020 | TAHITI | PPT/PPT | Dreams of Tahiti | 01/02/20 | 7 | 107 | 730 | 835 | 905 | 975 | 1,255 |
| SPIRIT | 2020 | TAHITI | PPT/PPT | Twice the Tahiti | 01/02/20 | 18 | 232 | 1,740 | 2,010 | 2,190 | 2,370 | 3,090 |
| SPIRIT | 2020 | TAHITI | PPT/PPT | Tahiti & the Tuamotu Islands | 01/09/20 | 11 | 131 | 1,010 | 1,175 | 1,285 | 1,395 | 1,835 |
| SPIRIT | 2020 | TAHITI | PPT/PPT | Tahiti & the Tuamotu Islands | 01/20/20 | 10 | 124 | 930 | 1,080 | 1,180 | 1,280 | 1,680 |
| SHIP | Year | Region | FROM/TO | PRODUCT | DATE | Length | TFPE | S / B | S1 / BX | S2 / A | S3 / AX | BS / TX |
| 2020 SOUTH PACIFIC | | | | | | | | | | | | |
| SPIRIT | 2020 | SOUTH PACIFIC | PPT/LTK | Polynesia: Pearls of Paradise | 02/06/20 | 14 | 560 | 2,870 | 3,080 | 3,220 | 3,360 | 3,920 |
| SPIRIT | 2020 | SOUTH PACIFIC | LTK/NOU | South Pacific Undiscovered: Fiji, Vanuatu & New Caledonia | 02/21/20 | 8 | 320 | 1,640 | 1,760 | 1,840 | 1,920 | 2,240 |
| SPIRIT | 2020 | SOUTH PACIFIC | LTK/CNS | Visions of the South Pacific: Fiji, Vanuatu, New Caledonia & the Coral Sea | 02/21/20 | 15 | 600 | 2,700 | 2,925 | 3,075 | 3,225 | 3,825 |
| 2019 TRANS-OCEAN | | | | | | | | | | | | |
| SURF | 2019 | TRANS-OCEAN | LIS/PHI | Crossing to Caribbean | 11/30/19 | 14 | 104 | 960 | 1,170 | 1,310 | 1,450 | 2,010 |
| SURF | 2019 | CARIBBEAN | LIS/PHI | Caribbean Essence Crossing | 11/30/19 | 21 | 222 | 1,555 | 1,870 | 2,080 | 2,290 | 3,130 |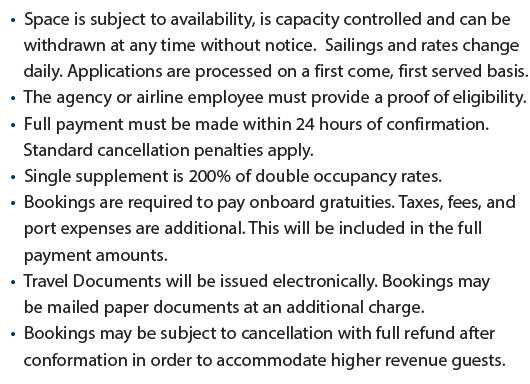 Prices are per person based on two people traveling.
For all interline reservations on Windstar, full payment is due at the time of booking.
Employee ID must also be received within 24 hours of confirmation. If proper ID is not
received, the cruise line may convert the booking to full fare.

Wind Star Interline Eligibility
• Employees of Airlines who are IATA/ARC appointed
• Employees of Federal Express, DHL , Airbourne & UPS
• Employees of National Air Traffic Controllers Association
• Employees of National Pilots Association
• Employee's spouse are eligible to sail without the employee
• Retired employees of airlines currently in operation

You can book one additional cabin for friends and family for a total of two cabins.

**Interline Rates with Wind Star** If airline employee/retiree cannot provide proof of U.S. or Canadian citizenship, the cruise line reserves the right to change rate to full retail pricing.

Sailings can be withdrawn from this program without prior notice.
If the dates are listed below, it does not guarantee that the sailing is currently available.
**Rate Disclaimer**
All rates shown are based on the current exchange rate.
It is important to note that foreign exchange rates fluctuate frequently
and that the prices provided above, can change at any time without notice.
Email Us | Booking Procedure | Club Aero-Marine


Telephone: 1-800-ALL AERO
(1-800- 255-2376)

Aero-Marine Interline Tours and Cruises
PO Box 275
Franklin, NJ 07416 USA