Star Clippers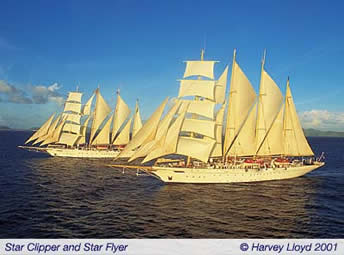 Ship: Star Clipper
Phuket roundtrip
Date: March 17-24, 2018
April 7-14, April 14-21, April 21-28, 2018
Ship: Star Clipper
Phuket to Singapore
Date: April 28-May 5, 2018
$1,260 per person (first time passenger sale of $70 per person off)
Ship: Star Flyer
St. Maarten round trip
Date: February 17-24, February 24-March 3, March 17-24 & March 24-31, 2018
$1,330 per person (first time passengers sale of $70 per person off)
The rates are based in categories 3 & 4, cruise only. Port charges are additional.
Valid for US and Canadian Residents only
Full payment is due at the time of booking and non-refundable
***New Policy***
If your cruise fare goes lower and the cruise line allows the reduction, Aero-Marine will be charging a $30 processing fee per cabin to make the adjustment.
Even if a cruise credit is given the $30 processing fee will be charged.
Federal Express employees and retirees qualify
For more information about Star Clipper's ship and itineraries please visit:
www.starclippers.com
**Rate Disclaimer**
All rates shown are based on the current exchange rate.
It is important to note that foreign exchange rates fluctuate frequently
and that the prices provided above, can change at any time without notice.
Email Us | Booking Procedure | Club Aero-Marine


Telephone: 1-800-ALL AERO
(1-800- 255-2376)

Aero-Marine Interline Tours and Cruises
PO Box 275
Franklin, NJ 07416 USA