Cancun
Gran Caribe Real 5*
All-Inclusive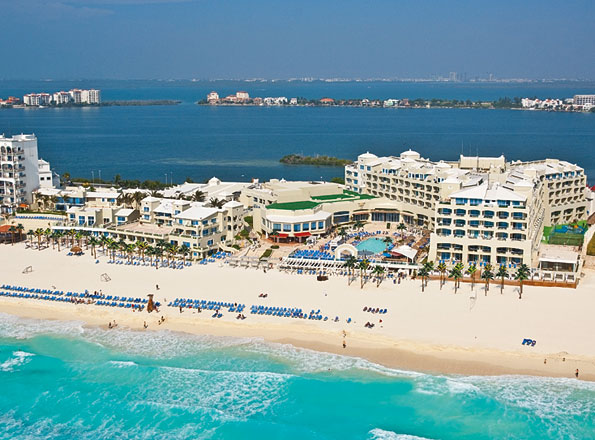 The Caribe Real offers an unsurpassable mixture of excellent European service with the warm Mexican hospitality. Enjoy the beautiful blue Caribbean from sumptuous facilities in modern Mediterranean style, while they take care of every single detail to bring you an exceptional vacation, with the best All-Inclusive concept around. Caribe Real is a classic yet modern property with all comforts related to five star hotels, on the highest valued beach of Cancun. Located in the heart of the hotel zone only 30 minutes from the Cancun International Airport, near by the Convention Center and across from Flamingo Plaza, within walking distance from hundreds of shops, discos and restaurants and just 25 minutes from downtown. All 638 rooms offer a balcony, A/C, shower with tub, cable TV, mini-bar, safety deposit box and direct dial phone. They offer three large swimming pools, a fully equipped gym, fitness classes, kids club, beauty salon and water sports.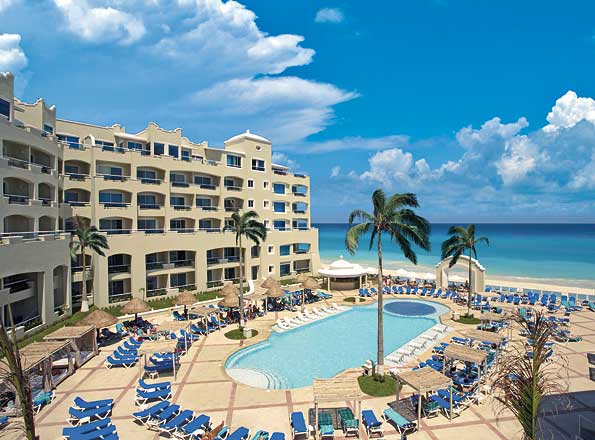 Included in your all-inclusive package:
All accommodations

Breakfast, lunch, snacks & dinners

Domestic & selected international drinks

Non-motorized water sports such as kayaks and snorkeling

Daily activities including nightly entertainment

Gym facilities

All taxes, service charges and gratuities

***Special***
Book by April 30
Travel
Mar 21 - April 14
$139 pp/nt and $110 pp/pn 3rd/4th
April 15 - 30*
$144 pp/nt and $114 pp/pn 3rd/4th
May 1 - 31*
$118 pp and $93 pp/pn 3rd/4th
June 1 - July 1 & July 5 - Aug 17
$113 pp and $89 pp/pn 3rd/4th
Aug 18 - Oct 31
$95 pp and $74 pp/pn 3rd/4th
Nov 1 - Dec 23*
$102 pp and $80 pp/pn 3rd/4th
* Apr 17-19 $20 pp/pn supplement
* May 22-24 $10 pp/pn supplement
* July 3-5 $10 pp/pn supplement
* Nov 27-29 $5 pp/pn supplement

Promo Code "SSVN"